Looking to beat the COVID-19 blues? Try a few of these unique quarantine activities to transform your stay at home to play at home!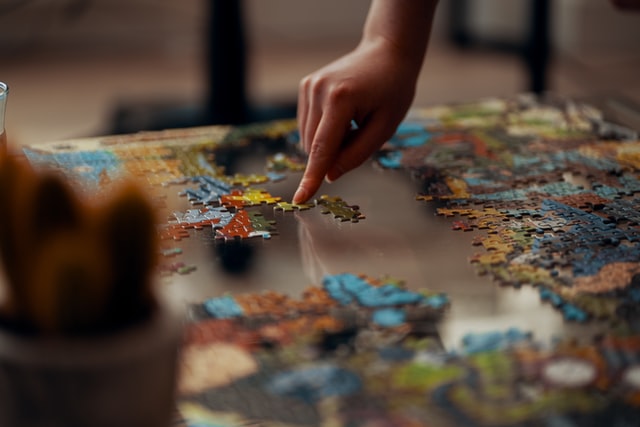 It's been a long few years for everyone dealing with the COVID-19 pandemic. You're not alone if you're looking for some unique new quarantine activities that you can use to pep up your day-to-day. Well, look no further – we've got some easy and low-cost ideas!
Which of these quarantine activities are you adding to your to-do list?
1. Put together a unique jigsaw puzzle
With hundreds of stunning designs, jigsaw puzzles aren't just for your grandparents anymore. This quarantine activity involves a small investment for a maximum time return (some puzzles can take hours or days to put together). Plus, if you're really passionate about a puzzle's design, you can glue the jigsaw puzzle together, frame it, and hang it in your home.
Looking for a way to put together jigsaw puzzles that's totally free? We'd suggest trying a free jigsaw puzzle website like https://www.jspuzzles.com/. These websites have hundreds of designs to choose from and allow you to customize the complexity of the puzzles. Some of these jigsaw puzzle websites even let you upload your own design, which can be an extra fun activity for a couple or family!
2. Host a VIP movie night at home
Bring the best part of going to the movie theatre to your own home with this quarantine activity. If there's a new movie release that you want to see – spend a few dollars to rent it. Or pick a movie for free from your favourite streaming platform like Netflix, Crave, or Prime Video.
A few suggestions to make this VIP movie night extra special? Add in some snacks like homemade popcorn or a charcuterie board. Make sure to bring your coziest blankets and pillows to your couch or movie viewing area. Light some candles or add a few battery-powered twinkle lights for the perfect ambiance.
3. Do some brain training with free online sudoku
It's no secret that sudoku is one of the best ways to keep your brain sharp. Free online sudoku pairs perfectly with coffee in the morning or to wind down in bed at night. One of the best websites for free online sudoku puzzles is https://www.livesudoku.com/ which has puzzles that range from beginner to expert level. Feeling extra lonely during quarantine? Compete against someone in the multiplayer mode! Or, if you're more of a pencil and paper type of person, you can print the free online sudoku puzzles and solve them that way too.
4. Cook a new recipe with a signature cocktail on the side
Have you been craving a specific food or dish lately? Try making it at home – with a signature cocktail or glass of wine in hand. We love this nourishing activity because it can be done solo or as a couple. You could even involve the whole family!
5. Organize one small space in your living area
Everyone has a shelf, drawer, or closet that could use some extra attention. Pick one of those small areas in your living space and organize it properly. Some ideas could include your spice cabinet, your pantry, your office desk drawer, or the "junk" drawer in your kitchen. Declutter and donate anything that you aren't using. Buy the proper organizational tools that you need and take an afternoon to just finish the project!