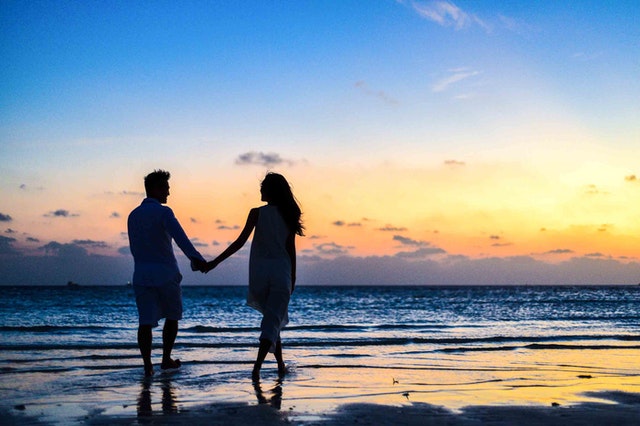 Are you ready to fall in love? Or perhaps you are already in love and are looking for ways to express your feelings to that special someone? Or – maybe – you've been in love for a long time and you just want to remind that person how much they mean to you.
Many people associate Valentine's Day with love and romance. And we tend to put a lot of stock in – and a lot of pressure on – Valentine's Day to be the most romantic day of the year. And, yes, that is an important day to show love to someone you care about. But there are 364 other days in the year, and it's important to remember that there are plenty of other opportunities throughout the year to let someone know that you love them.
For example, there is something so warm and wonderful about Fall that can bring those powerful emotions to the surface. And who doesn't want to be surrounded by love as we head into the Christmas season?
Picture it for just a moment, a lovely stroll – hand in hand – through the fall colors. Wrapped up in warm jackets and each other's love. Doesn't that sound wonderful!
But expressing our love for another is not always easy. Sometimes, we get so caught up in our own emotions that it becomes harder and harder to find just the right words to show exactly how we feel.
Or sometimes – and perhaps even worse – we get so busy with our day-to-day lives that we forget that the simplest expression of love & romance can mean the world to someone else. When we get sidetracked by our day-to-day activities, saying something as simple as "I love you" is easy to forget. Unfortunately, we often dismiss these small but powerful acts of love without even realizing how much they mean to the other person.
Between work and social media and the latest binge-worthy show on Netflix, it's amazing how quickly an entire day can go by. But if we allow romance to become a victim of our busy society, it is us who pay the price. After all, relationships need nurturing and love needs to be expressed.
There are many ways that we can show our loved ones how much we care, such as:
Asking them about their day
Cooking them their favourite meal
Creating a curated playlist (the updated version of a mixed tape!)
Scheduling a date night
Going for a walk together
Posting on their social media profile
Paying them a compliment
Using their nickname (that goofy, romantic one you might not use as much anymore)
Celebrating their successes, big and small
Sending them a lovely quote message
Telling them "I love you!"
Saying "I Love You" may seem like the smallest and easiest of gestures, but it can express the largest of emotions and can be much harder to do than one would think… especially when we're out of practice.
This beautiful collection of love quotes features over 100 of the loveliest sentiments about love, relationships, and romance is perfect for sparking that romantic flame inside us.
Whether we want to send them as a quick text, post them on social media for all the world to see, or write them in a card attached to a bouquet of flowers, these words can mean so much.
And why not let others, who have had the same struggles as us, inspire us with their own words. Here are just a few examples of the over 120 quotes included in this inspirational article:
"Whatever our souls are made of, his and mine are the same."
Emily Bronte
——-
"I swear I couldn't love you more than I do right now, and yet I know I will tomorrow."
Leo Christopher
——-
You are my sun, my moon, and all my stars.
e. e. Cummings
If you're struggling with how to put your feelings into words, don't worry… it happens to the best of us. But fear not, this collection of quotes about love is an easy way to get some inspiration on how to share something special with that someone special.
After all, when you love someone, you don't want to leave them hanging. You want to show them you're committed to them and to your relationship together. You want to shout it from the rooftops.