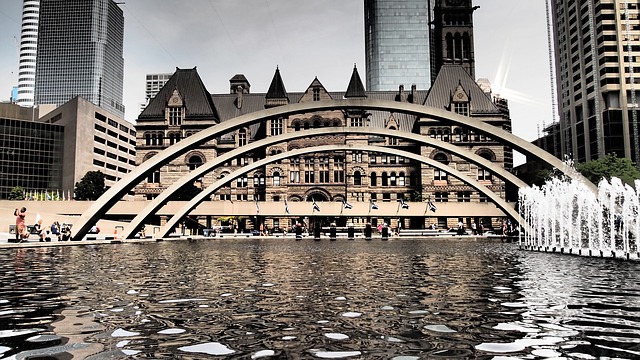 Toronto is a unique city known for its architectural buildings. There is a story on every structure you find in the city. As the country continues to develop, several architectural designs were adapted. Besides being the largest city in the country, Toronto has also become the most visited place in Canada because of the unique structures.
The Great Toronto fire on April 7, 1849, has destroyed a big part of the downtown area, destroying 118 buildings. Thus, most city buildings are new, but they preserved some of the historical features saved during the fire. We have listed below some of the structures in downtown Toronto with impressive architectural design.
1. The Toronto-Dominion Centre (TD Centre)
The Toronto-Dominion Centre, designed by a modernist architect Ludwig Mies van der Rohe, has significantly impacted the city. The fortress is made of steel and glass and symbolizes the city's progress and innovation.
Although the design is of the International style, the architect makes sure that it maintains its mid-century modern roots. The architect who recommended Mies van der Rohe to design the building commented that it was an architecture of repose because of the restrained materials.
2. Gooderham Building
If you have been in Manhattan, you will think that Flatiron Building has transferred to Toronto because of its resemblance with Gooderham Building. Initially, it houses Gooderham & Worts Distillery, but it was sold in 1950.
The building was restored in 1970 and was declared a historic structure in 1975, and now it is used as offices. The basement was transformed into A Firkin Pub. And before you leave the building, you can check the trompe l'oeil Flatiron Mural done by Derek Michael Besant, a Canadian artist. If you happen to be in the place, it is best to visit the hipster café, artisan shops, and restaurants.
3. Bata Shoe Museum
This museum is not an ordinary one as it features different footwear and is located in downtown Toronto. It is the first shoe museum in North America. The Bata Shoe Museum is known for preserving, exhibiting, collecting, and researching footwear not just in Canada but all over the world. At present, there are over 13,500 items and artifacts that you can see in this museum.
Ramong Moriyama designed the building in 1995. The architecture of the building is like an opening shoe box. Some of the activities held in the museum include performances, family events, exhibitions, and lectures.
4. Design Exchange (DX)
This structure is situated on Bay Street, which is known before as the Toronto Stock Exchange. It is recognized as the most advanced trading floor all over the world since it opened in 1937. Design Exchange is a combination of Streamline Moderne and Art Deco.
Its unique but straightforward façade is worth looking checking out. You will also be impressed with its pink granite entrance, designed by Charles Comfort, a Canadian artist. At present, the structure is the home of Toronto's Design Exchange.
5. Scotia Plaza
The third-tallest building in Toronto is situated on King Street West. If you look upwards, you will see the Scotia Plaza. It has a stunning skyscraper made from 28,000 pieces of accurately cut and polished red napoleon granite. You will see a 100-foot mural in the lobby, which is the country's biggest indoor mural.
6. Old City Hall
Situated on Queen Street West is the fantastic Romanesque civic structure designed by architect Edward James Lennox. He is the man behind the iconic buildings like the King Edward Hotel, Neo-Gothic Casa Loma, and the former Bank of Toronto on Yonge Street.
The clock tower is the building's attraction with a 20ft clock face and 340 ft clock tower made in Croydon, Southeast London. At the entrance, you will find grotesque faces carved. One of them has a resemblance with Lennox. You will be impressed with the two-tone ornamental façade made from sandstone.
7. Aga Khan Museum
This museum displays more than 1000 rare objects of Iranian art, Islamic art, and Muslim culture. Fumihiko Maki, Charles Correa, and Vladimir Djurovic are the architects who designed it.
You will be amazed at the structure's architectural prowess. It is similar to a sundial, as all of its sides are exposed to the sun. The museum has a Brazilian granite surface where you can see a constant play of light and shadows.
There is a courtyard with glass walls inside. The walls create a 3D effect, which is quite attractive. Inside the museum, you will find galleries, an auditorium, a reference library, exhibition spaces, and a restaurant.
Final Thoughts
If you visit the city of Toronto, you will be greeted with well-designed and attractive structures. Staying here for one to two days is not enough, there is a lot in store for you if you visit the city. For those who have plans of settling here longer and you are in search of a place to stay, check out CondoMapper. If you have any suggestions or ideas you want to share, you can comment below.