Bahamian native Dominique Forbes has an impressive list of accomplishments. She is an acclaimed author, speaker, Gospel music singer/songwriter and entrepreneur. However, if you ask her which role she is most proud of, she will tell you it's being a loving wife and mother of five.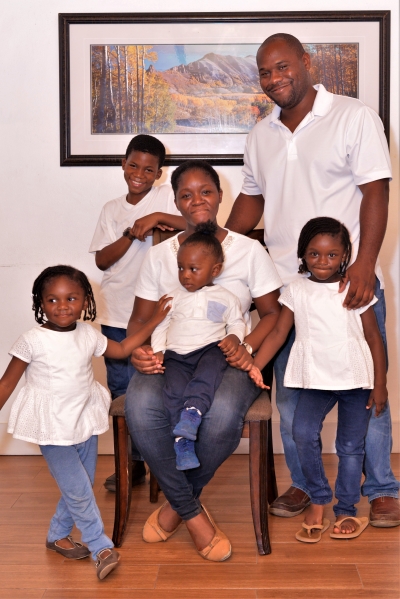 That being said, things were not always smooth in Dominique's life. She grew up in a single-parent home and has witnessed both marriage and divorce. She has seen first-hand what it's like living in a broken home. From having experienced an unstable living environment, Dominique knows how important it is for a family to stay together and for children to have a loving father walk through the door each day. It is this genuine passion for a healthy marriage and the importance of a father's presence that inspired Dominique to write her children's book "Where Is Daddy? STAY PUT SERIES!"
Where Is Daddy? STAY PUT SERIES!, available on Amazon, is about how a father brings joy to the home. Based upon Dominique's own family, a child, upon seeing his father come home, is very happy and excited. In fact, in this story, which takes place on The Island of The Bahamas where the loving family resides, all the children and their mother anxiously await the father's arrival back home from work each day. The pure joy the father's presence brings is a true reflection of Dominique's household, and having seen the excitement on her own children's faces, Dominique strongly believes that fathers should be present in every Bahamian home.
Released on her daughter Grace's birthday (January 7, 2021), this date was a milestone for Dominique as she was also preparing for her daughter's birthday party while taking care of her 2 year old son, Samuel and nursing her infant daughter, Sarah. In writing this book, she wants working women to know that they can be a stay-at-home wife and mother, but still find purpose at home. A marriage, as loving as it can be, will always have its challenges, but she believes it's the little things that matter, which can make a home either wonderful to live in or a dreadful experience. She also wants women to know that men are necessities in a loving household, as they bring structure, balance and love to the family.
In the midst of everything she has already accomplished, Dominique has also continued to write, and will soon be releasing her poetry book for adults, "Mamma, Do You Love Me?," which will also be available on Amazon. She hopes her story will inspire other women to continue to pursue their personal and professional goals, even if it seems like life is too busy to take on new challenges. From Dominique, "Like the Bible says, "Your gift will make room for you" Proverbs 18:16."
Follow Dominique Forbes on Facebook: https://www.facebook.com/DominiqueForbes242 or on Instagram: @dominiqueforbesglobal. Subscribe to her YouTube channel: https://www.youtube.com/channel/UCX9w32v-EV3hrf3uXNZ_wQA