With the advancements in technology, it feels like coloring activities have taken a backseat in the child's learning. Coloring may seem like a very basic and simple task but it has immense benefits in child's development. Coloring is considered to be really useful for the children of all ages.
It is such an activity that not only keeps children busy but is also beneficial for their cognitive development. Coloring is an effective way for children to express themselves. It enables them to have quality time with their families. Coloring also imparts the creativity among children. In such a busy world, this old favorite task of the children can bring joy in their lives.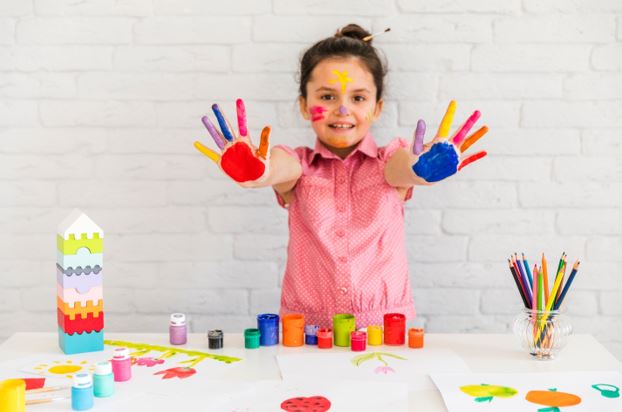 The Purpose of Coloring
The main purpose of coloring for the kids should be to have fun. Coloring gives them a chance to express themselves. It is necessary for the parents to know that there is a time to teach children but there is also a time to allow them to express their ideas through colors.
Coloring should be a fun experience for the kids. It must not feel like they are going to be evaluated or judged on the basis of their coloring skills. Coloring should not be taken as a graded assignment, especially not for young kids.
The importance of coloring for kids
Coloring does more than just keeping your kid occupied and quiet while you are busy making the dinner. It has massive benefits for kids of all ages.
The traditional way of coloring helps in developing the kid's grip on pencil and paper. This grip supports in developing the muscles of fingers, wrist and hand. This practice strengthens the fine motor skills making the child good at typing, sports and other related activities.
Coloring is great to let the child feel relaxed and comfortable while making his or her picture. It is also seen that coloring boost the level of patience among kids. They tend to act more relaxed and patient in other activities.
Assists in concentration:
As the child grows, his or her concentration level expands. He or she is required to focus on a single activity for a period of time. Coloring has proven to be an effective tool in this regard. It helps increasing the child's concentration level letting him or her to have a focus effortlessly.
Develops color recognition:
Coloring in various activities increase color awareness among kids. Using different colors give kids the liberty to explore different color combinations and let them check how they can change the entire appearance of picture by using various color schemes. It gives kids the chance to recognize the lesser known colors.
Coloring activities boost children's confidence and self-esteem as they are encouraged to complete the task. The task might seem smaller to the parents and guardians but having a full picture in front of a kid being colored all by himself or herself boost the confidence level. It also urges the kid to perform even better the next time. It promotes the sense of pride and achievement among kids.
Act as a stress reliever:
It is hard to believe that kids also feel stress or they can get stressed by any situation but, it does happen, just like it happens with the adults. Coloring is proven to have a calming effect on mind. So, it is specifically more important for the kids who have anxiety issues and find it difficult to regulate their negative emotions and thoughts. Coloring can act as a stress reliever for them making them more relaxed and under control.
Coloring is extremely beneficial for promoting creativity among the kids. Give them the liberty to experiment different colors and different objects. As they become more confident in coloring they will be encouraged to try on different patterns and advanced objects for coloring.
Making coloring enjoyable for kids
Coloring should be such a time for kids where they can enjoy the most. The real essence of coloring activities is to let the kids take the most out of them. Coloring activities should be an enjoyable time for the kids not a burdensome activity.
Parents can use various tactics to make coloring enjoyable for the kids. Parents can give their kids a coloring challenge, asking them to complete it within the given amount of time. It develops the sense of competition among the kids. The parents can reward the kids at the completion of the task. It will boost the child's confidence to complete the task next time as well in order to get rewarded.
Research has shown that music has a positive effect on brain while doing a task. Parents can play music for the kids making the coloring time enjoyable for them. It will help the kids to complete their coloring activities on a lighter mode without getting tired.
Parents can design a specific folder of their kid's coloring activities. They can display that folder to the kid from time to time. It can boost the motivation level encouraging the kid to do more. It will also increase the sense of responsibility among the kid to display his or her best work.
Parents can also use variety of coloring materials. It can train the kids to handle different types of coloring materials. As coloring using crayon is entirely different than coloring via pencil colors. So, using various materials such as crayon, marker colors, paint colors etc. can help the child to explore different forms of coloring. Parents should give their little painter the liberty to explore all the coloring materials.
This is an era of technology. Kids now-a-days are more into new gadgets and enjoy doing activities online as compared to using the traditional modes. An online platform is available for the kids as well as for the adults to have interesting and engaging coloring pages. Such mode of coloring helps the kids to have their coloring sessions according to their demand. To find the best coloring pages for the kids of all ages, click here.