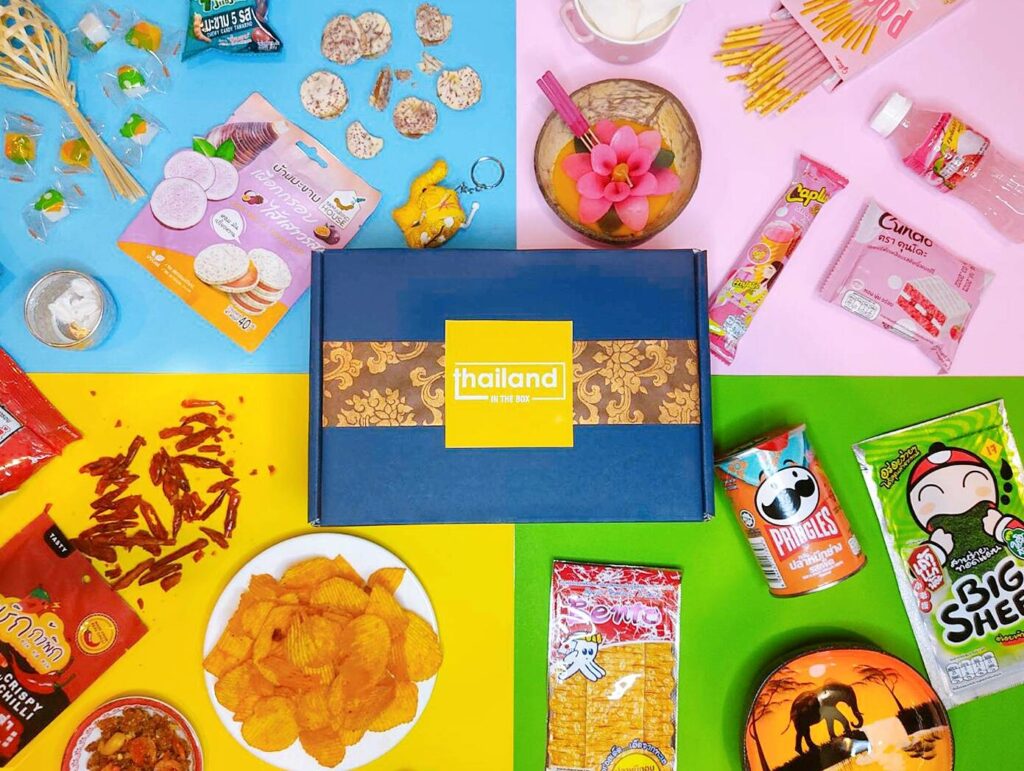 Traveling to new places and trying new foods is one of the best parts of our interconnected world. Experiencing the tastes of a new place can connect you to its people and its atmosphere. With the global pandemic, expensive travel costs, and the time it takes to travel, sometimes the opportunity to experience new things is out of reach. That does not mean that you cannot still enjoy the delicious foods and handmade pieces from your favorite places.
Thailand in The Box offers a special experience to try your soon-to-be favorite Thai snacks, ingredients, and gifts anywhere in the world. Their specialized boxes are packed full of unique and delicious items from Thailand. From sweet treats to spicy snacks each box has a variety of local items that you are sure to enjoy.
Thailand in The Box gives you the unique experience of customizing a box of snacks that are perfectly curated to your palette. When you place your order, you will fill out a survey with your likes and dislikes in flavors and tastes. The wonderful people at Thailand in The Box will create a perfectly personalized box of Thai snacks just for you. Each box is unique to each order so you can be sure you're getting a completely personalized experience. With the thousands of options of delicious snacks from Thailand, your box is sure to be filled with delicious snacks and treats that you will fall in love with. Don't like the fishy smell that comes with seafood snacks? Are you not a fan of things that are too spicy? Do you prefer sweets over savory snacks? The survey will ask you a variety of questions to make sure you get exactly what you want. Every box is curated to your taste and contains handmade and traditional gifts from Thailand. Each one of our boxes is sure to get you and your family excited about trying international snacks.
Would you prefer to be surprised? Our mystery box gives you the option to have an exciting and surprising experience filled with a variety of delicious Thai snacks and treats. These mystery boxes are perfect for parties and get-togethers when you want everyone to try something new. No matter what box you get, you can be sure it will be filled with a tasty and traditional touch of Thailand. This is the perfect opportunity to find new snacks that you haven't tried before and figure out which Thailand snacks are your favorite so you can order them again.
Thailand in the box is a great way to experience the magic of Thai traditions and snacks from the comfort of your own home. With this box, you can explore the flavors that are unique to Thailand while appreciating the tradition and culture of the Thai people, all without the expensive travel. Thailand in the box is the best way to acquire snacks that you can only find in one place: the beautiful streets of Thailand. Go on an adventure without even leaving the house with Thailand in the box.
SheSpeaks.ca was not involved in the creation of this content. Information contained on this page is provided by an independent third-party content provider. SheSpeaks.ca makes no warranties or representations in connection therewith.