Crucial factors to consider before buying a sofa bed, futon or pull-out beds
Kitchen and Couch are here to help you find the most stylish and comfortable Sofa Bed, futons, and pull-out beds. It is evident that they are the most versatile and functional furniture items one can buy. The best part is that you don't need to buy a sofa or a bed separately, just buy this one thing, and you are good to go. For once, nobody could believe that you are actually sitting on a bed. It looks like a regular sofa, but once you pull it out, boom! it's a bed! Sofa beds, futons, and pull-out beds are usually of the same category but have a few differences.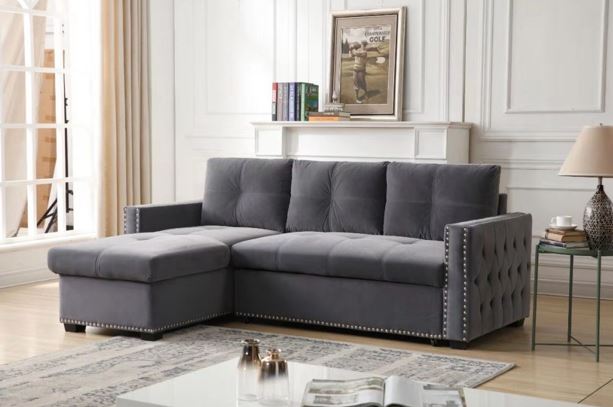 Here are the two points worth considering before choosing the best sofa bed.
One is pull-out, which usually displays a raised bed base that comes out from under the sofa once you pull it out while the rest of the sofa is still in its original place. So, the sleeping surface is higher from the ground and it is more like a traditional bed.
Next is fold-out, in which the sofa itself becomes the sleeping area by having the tendency to fold itself. As compared to a pull-out bed, it's usually more leaned towards the ground and a bit firm to sleep on. However, it's generally an affordable option and takes up less space too.
So, now we got the background on the two types of sofa beds. What else to consider before making a purchase?
The sofa size, of course! It is critical to take into consideration how much seating area your sofa bed needs to offer.
If you do not wish to place it in the main living room area, then you can undoubtedly go with a more compact version. On the other hand, if it needs to seat the entire household on a daily basis then invest in a chaise sofa which also has hidden storage for bedding often. So a corner sofa bed is probably a decision you will never regret.
As Canadians, we understand how necessary it is to measure everything we buy before it goes to our place. So how can we not measure the mattress that's gonna go on top of the sofa bed? Always measure the mattress size before making this crucial purchase.
Last but not the least, is how much comfort will the sofa provide us as it is a place where we would be lying down or seated the whole day. Almost all sofa beds are going to feel a little firmer to sit as compared to the other sofas because of their hidden mechanisms. But, here's a hack to increase comfort. Always look for options that offer a sprung or webbed seating base and feather-wrapped cushions for extra comfort.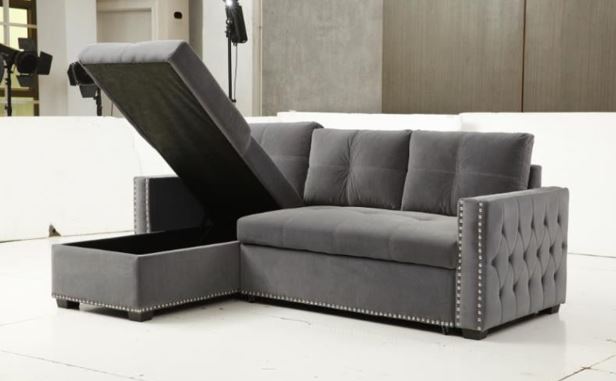 If you're looking for a sofa bed that can be used as your main sofa or sectional in a living room and also has storage, go with the Ryder sectional sofa with closed eyes. We assure you that this is a perfect piece that will serve all your needs. Be it, accommodating guests, storing your stuff, or extra sleeping space, it does it all. It's a timeless classic-yet-contemporary-styled sectional sofa in warm grey color that will go with almost every room decor. It showcases beautiful tufting on the sides and silver nailhead details that add an extra stylish edge.
So, do take out a minute to go through our wide collection of sofa beds and futons and we assure you that you will get the best value for your money and thank us later!
SheSpeaks.ca was not involved in the creation of this content. Information contained on this page is provided by an independent third-party content provider. SheSpeaks.ca makes no warranties or representations in connection therewith.