Breast cancer treatment can cause significant pain and suffering, long after the diagnosis has been confirmed. Being denied long-term disability benefits on top of his can cause significant stress and can impact your ability to recover mentally and physically. When you cannot work due to your breast cancer disability, it can feel as though you have nowhere else to turn and you are not receiving the treatment you deserve.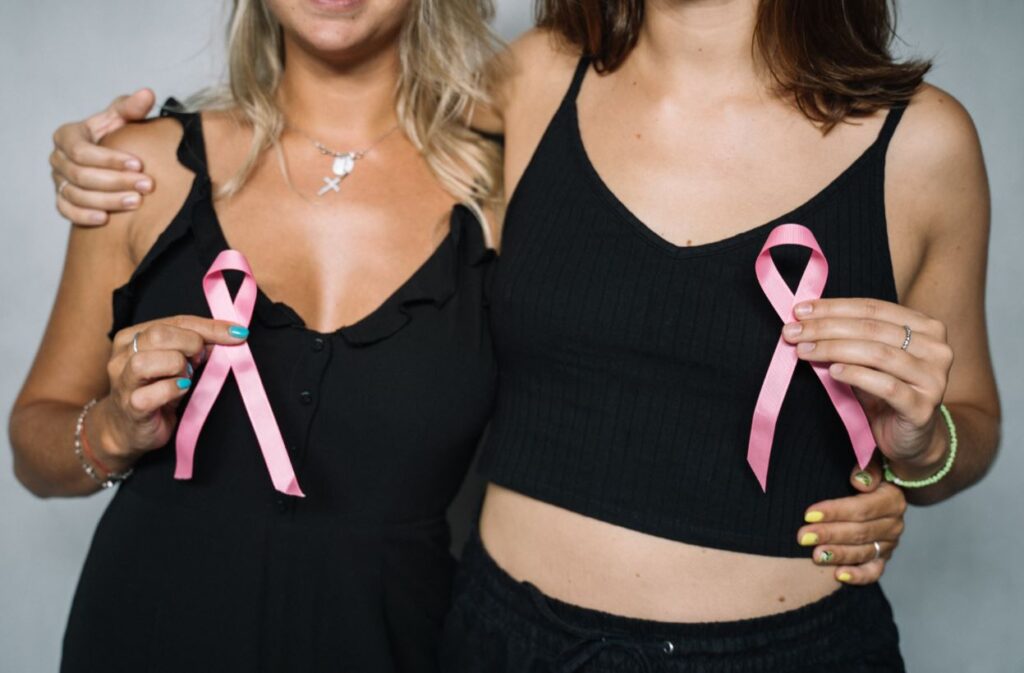 You do not need to continue feeling frustrated. There are options that are still available to you, and working with a Hamilton disability lawyer will help you achieve the option that is right for you. As top long-term disability lawyers in Oakville, we have handled our fair share of breast cancer claims, and we have recovered millions of dollars in denied disability claims. You are a paying policyholder, and you deserve to receive monthly benefits to support you as you recover through this difficult time.
Breast Cancer Treatment and Recovery in Canada
Canadian Health Services reports that 1 in 31 Canadian women who suffer from breast cancer will die from it, and Cancer Care Ontario states that it is the leading cause of premature death in women under the age of 50.
Breast cancer begins as adenocarcinomas, located in the breast glandular tissue. 90% of all breast cancers are categorized as ductal carcinoma, wherein cancer cells are formed in the ducts. While there is no single specific cause of breast cancer, there are many factors that may contribute to it, including early menstruation, genetic history, obesity in post-menopausal age women, and high breast tissue density. Individuals who have been recently diagnosed with breast cancer are at a higher for cardiovascular disease, one of the leading causes of death in North America.
It is therefore critical that women who have been diagnosed with breast cancer begin treatment as early as possible in order to prevent the disease from worsening. Treatment options available include chemotherapy and mastectomy, among others. The common factor in all breast cancer treatments is the fact that it requires significant amount of time away from work, and the side effects can prevent an individual from being able to return to work entirely.
Does Breast Cancer Qualify For Long-Term Disability Benefits?
Cancer is one of the top reasons claimants file for long-term disability benefits in Canada. Patients who are undergoing breast cancer treatment are often required to miss significant time from work, resulting in lost wages and income. The pain and suffering experienced through the breast cancer treatment process can prevent the individual to perform the requirements of their job while they are recovering.
In Ontario, depending on the individual insurance plan, the claimant must be qualified as totally disabled to qualify for disability benefits. This means that the claimant's disability prevents them from performing any of the duties of their job safely or effectively. However, the definition of total disability according to an individual insurance plan may vary depending on if it includes "Own Occupation" or "Any Occupation" coverage. "Own Occupation" coverage provides benefits to you if you are unable to perform your specific occupation, while "Any Occupation" will provide benefits to you if you are unable to perform any occupation within the scope of your education, experience, and industrial background.
If you are suffering from breast cancer, at any stage, and your benefits have been unreasonably cut off or denied, our Oakville disability lawyers can help you.
If Your Breast Cancer Disability Benefits Have Been Denied or Cut Off, You Still Have Options.
When your insurance company fails you, it may feel as though you are out of options. However, being denied or cut off from your disability benefits is not the end of the road for you. There are generally two options you can choose at this time: accept the denial or hire an experienced disability lawyer to represent your case and appeal the decision.
Accepting your denial can result in significant financial and psychological distress. As you continue receiving treatment, debt can become significantly overwhelming. If you are suffering from breast cancer, you should not be suffering from the burden of added stress on top of your pain. Our long-term disability lawyers will examine your case and determine the best scenario for your needs. We know how frustrating it can be when you feel as if you are out of options and that your quality of life is suffering drastically. Do not give up. Many insurance companies do not acknowledge or recognize the fact that there are a significant amount of post-treatment factors that cause added pain and can prevent you from continuing to work. It is our job to ensure that you receive your fair share of benefits.
NEVER GIVE UP.
It is our goal to provide a strong defence for you. Our team includes some of the top disability lawyers in Ontario, and we have represented clients in your situation for many years. Together, we work with the province's top medical experts to go over all of the details of your claim. These professionals include top oncologists and breast cancer researchers who will examine your medical records, treatment documents, and more in order to help you prove without a doubt that you are entitled to continue receiving your disability benefits. We also work with vocational experts who will provide expert testimony as to your inability to perform the skills and duties required for your occupation. Some insurance companies may employ their own private doctors or medical professionals to examine your case and prove that you do not need benefits, so this step is crucial in ensuring that your side of the situation is presented as strong as possible.
In addition to strengthening your case, we also ensure that you are properly guided throughout the appeal process, and that all of your paperwork is filled out accurately and on time. Often, a denied or cut off disability benefit claim can come down to a detail as small as a clerical or deadline error. We prevent these issues from happening and ensure you have all of the answers you need on your quest for support and justice.
Contact our Disability Lawyers to Assist With Your Denied Breast Cancer Disability Claim
We offer free, no-obligation consultations with our team of long-term disability lawyers. Our team includes some of Ontario's top disability lawyers who have represented many clients suffering from breast cancer and who have been unreasonably denied or cut off from their benefits. We have successfully represented claimants against all of Canada's largest insurance carriers and are well versed in Ontario employment law. It is our goal to make sure you do not suffer any more than you have, and to bring you the peace of mind that comes with monthly disability benefit payments.
Visit us today at hamiltonlawyers.com – we would be happy to answer any questions you may have.
SheSpeaks.ca was not involved in the creation of this content. Information contained on this page is provided by an independent third-party content provider. SheSpeaks.ca makes no warranties or representations in connection therewith.