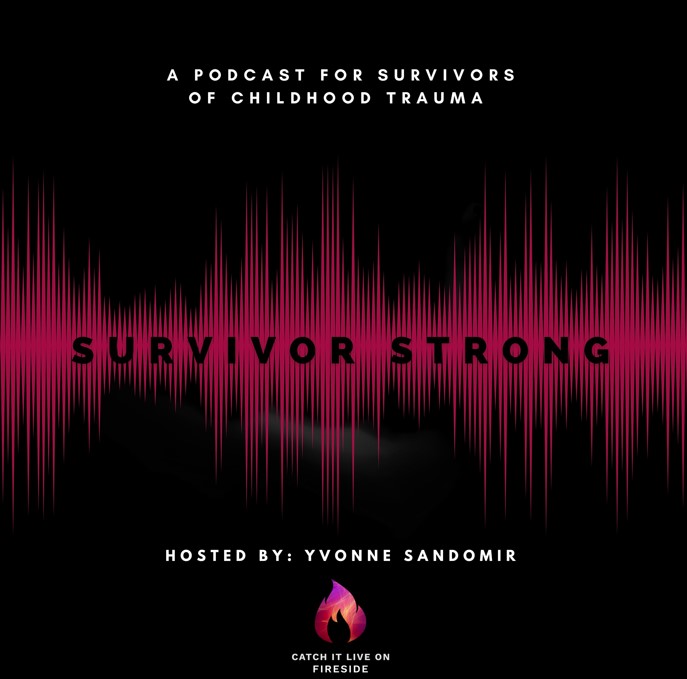 Yvonne Sandomir is a Cognitive Behavioral Life Coach, author of The Invisible Girl, A Memoir, and podcast host of "Survivor Strong" a platform spreading awareness of childhood trauma caused by sexual abuse and domestic violence. As a long time advocate for sexual and domestic abuse victims, Yvonne uses her platform to provide survivors the opportunity to share their stories, and offer support to fellow survivors of childhood.
Through her memoir, Yvonne recounts her journey of perseverance through a winding path of injustice, exploitation and parental betrayal that began at the young age of four. Sandomir details how through intense psychotherapy, it is possible to not only survive the after-effects of deep childhood trauma but to break the cycle of child abuse for her own family, that had been normalized for generations.
Having fled her home at fifteen, Yvonne Sandomir could only imagine a life free from the generational cycles of trauma and abuse. However years of continued violent relationships, abuse and trauma followed her – until 2015 when she began her healing journey.
Yvonne's bravery has inspired other adult survivors of childhood trauma and abuse to find the courage to face the deep-rooted effects of their trauma and find hope within themselves. It has become Yvonne's mission to guide fellow survivors toward true healing, through peer support, and intense therapy.
In a recent episode of "Survivor Strong," Yvonne speaks with a courageous thirteen year old girl who is speaking up and sharing her story of sexual abuse despite the intense backlash from family members. Yvonne Sandomir understands the parental neglect and the betrayals of those who are supposed to protect you as a young child.
The "Survivor Strong" podcast has been an effective awareness raising tool featuring weekly guests who openly and shamelessly speak their truths, while gaining authority over their own life and their stories. Yvonne can testify to the long-lasting damage childhood trauma victims experience as adults. She unwaveringly discusses these experiences as a child and how they continued well into her adulthood with guests on the show.
The podcast is available on (LIVE on Fireside, Facebook, & YouTube, Apple Podcast, Google Podcast, Spotify, and iHeart radio platforms).
As a survivor of childhood sexual abuse, incest, parental domestic abuse, alcoholism, drug addiction, and dysfunctional families, Yvonne's mission to empower and uplift fellow survivors of childhood abuse and violence has been the driving force behind her latest initiative to encourage others not to be bound by the traumatic experiences of the past.
"Survivor Strong" is undoubtedly changing the lives of its guests and listeners through honest conversations promoting education, healing, and growth. As Yvonne's journey to help those with similar childhoods find peace and resolve within themselves. Despite the fear and injustice, she hopes to raise awareness and educate others about the implications of childhood trauma.
Along with providing "a voice for the silenced", Yvonne donates 10% of her annual book sales to Lauren's Kids and works with ChildHelp in California. She is a former Guardian Ad Litem for The National Court Appointed Special Advocate (CASA) and the Guardian Ad Litem (GAL) Association for Children.
For more information on "Survivor Strong" and to watch the latest episodes, visit the podcast website. You can find Yvonne Sandomir's book "The Invisible Girl, A Memoir" on Amazon. Audible and her website.
Visit the Podcast Website:
http://www.survivorstrongpodcast.com/