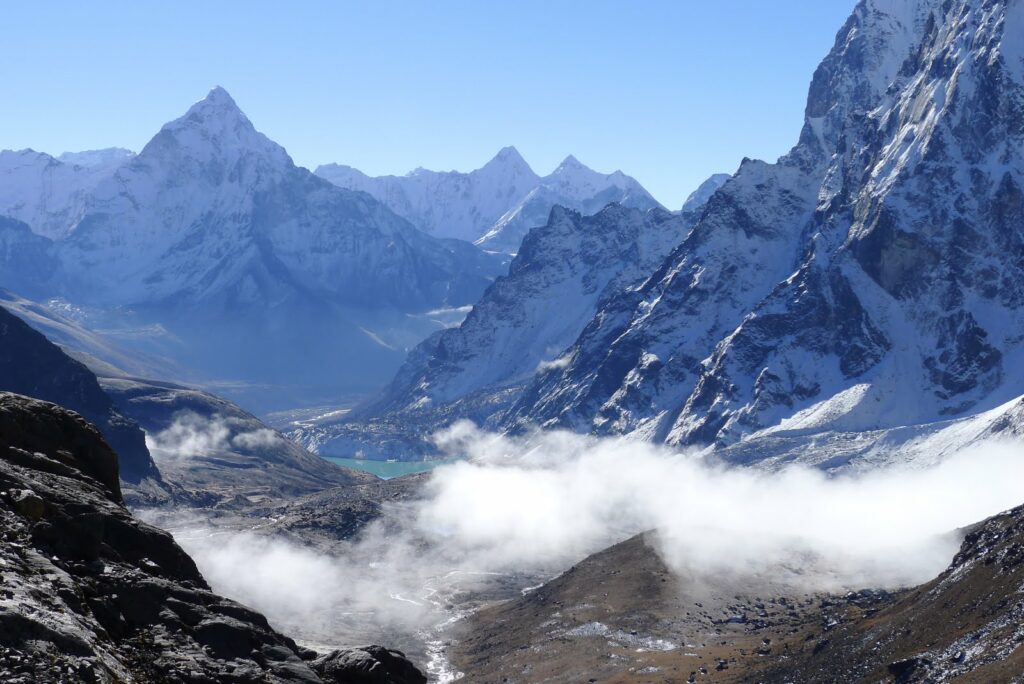 Nepal, a tiny South Asian nation, is primarily famous for its mighty Himalayas and diverse cultural backgrounds. For social individuals and nature lovers, one can find plenty to see, do, and experience besides walking to the foot of the highest peaks. Well, the Himalayas is one good place to experience the delight of Nepal yet, beauty extends to several areas of Nepal. Therefore, here below are the seven must-visit places in Nepal for a rewarding vacation.
Everest Region
Home to Mt. Everest, the world's tallest peak, the Everest region is the finest trekking destination in the world. The area is auspiciously famous for its high elevating mountains and the spine-chilling activities it offers. It is the absolute best destination if they are looking for a testing and adventurous journey. From mountain expedition to trekking or thrilling peak climbing, there are too many options. Moreover, the region also treasures the Everest Base Camp Trek, which has earned the title of world best destination multiple times. Alongside, the area showcases beauty in the postcard of beautiful hamlets like Namche, Lukla, Phakding, Dingboche, and many more. Not to forget the impressive Tengboche monastery with a heart-pounding backdrop, the region is filled with religious shrines in the shadows of tall, mighty peaks of Everest massif. Furthermore, the region's added highlights include turquoise lakes of Gokyo, Kala Pathar, sensational Lukla airport, and many more.
Dolpo Region
Stunning scenes never seem to stop in the magical kingdom of Dolpo. A great place to experience the authentic essence of trekking in Nepal, Dolpo valley offers majestic natural appeals and cultural splendor. It is a remote valley in Nepal with deep gorges, ghastly flowing rivers, and tranquil deep lakes to get lost in the fantastic creations of Mother Nature. Along with natural finesse, the valley exerts intricate cultural elegance to experience. Dolpo is one of the few areas in Nepal where the Bon Po religion is still practiced. The town likewise lets wanders walk through medieval times with hamlets of stone houses, hidden valleys, and bypassing beautiful shrines like Shey Gompa. Similarly, admiring the pristine waters of Phoksundo Lake, encountering yak caravans is a bonus highlight of the region. Time spent here is gratifying and unforgettable thus, one must not miss visiting the Dolpo region of Nepal.
Pokhara
Heaven on earth, as most love to describe, Pokhara is as pretty as a picture. Here you get to see the incredible mountain scenes towering majestic valleys and quaint Lakes. The city likewise showers visitors plenty of things to do and experience with many attractions dispersed around the city. One can take a guided tour of Pokhara and see all the allures that make it the ultimate favorite of domestic and international travelers. Or take on a self-guided tour around the city. All the more, it is the first timer's choice because of its appealing beauty that features a combo of natural beauty with evolving modernization. Also, if adventure is what you are after, partake in any of the splendid outdoor activities available to do in Pokhara.
Kathmandu valley
Home to the capital city of Nepal, the Kathmandu valley is the tourist hub for viewing the ancient arts and architecture. The valley is filled with vast and grand palaces-built centuries ago that are not missed attractions. A combo of three districts: Bhaktapur, Kathmandu, and Patan, the valley serves the best ancient artistic beauty of Nepal. Decorated with religious shrines, statues, and medieval houses, visiting these cities is like exploring an open-air museum. The grandeur is simplistic yet offers a memorable experience of traveling back in time. Take a guided tour of Bhaktapur, Patan, and Kathmandu, and learn the legendary history behind these grand palaces. Adorned with courtyards and different types of temples, a sightseeing tour of Kathmandu valley is a magical experience one should try on.
Chitwan
Another must-visit place in Nepal is the Chitwan National Park of Chitwan District. It is primarily famous as the ideal place to experience Nepal's tropical beauty; it is equally renowned for its wildlife abundance. Home to several wild creatures like Asian elephants, royal Bengal tigers, sloth bears, monkeys, one-horned rhino, and various types of birds, it is one of the best national parks in Asia for wildlife safari activities. Here one can engage in strolling through jungles with a nature guide learning the core of the jungle, or join in a smooth canoe ride through the still water of Rapti River. Moreover, the Tharu community adds more galore to the place with their vast knowledge about the jungle and fascinating cultures. Tharu are indigenous to Chitwan and display an impressive way of lifestyle that is environmentally friendly. Henceforth, to check out a life devoted to the forest and enjoy the wild, visit the Chitwan at least once.
Upper Mustang
Mustang is the remote Buddhist kingdom in the north of Nepal that sits surrounded by canyons on the high, arid Tibetan plateau close to the border with China. It is a remote semi-independent Tibetan Kingdom within Nepal, and its capital is called Lo Manthang. Historically, Mustang was a part of Tibet and a typical trail for trading salts and other goods. The area still is very much Tibetan and has perfectly preserved its old cultural heritage. The valley is full of dry, colorful rock formations and cave dwellings high up in the cliffs.
Moreover, it lies in an arid leeward area. Thus it is one of the few locations in Nepal viable for visiting even during monsoon season. On the whole, it is a privilege to trek in this region because here, one can accumulate an authentic mountain experience that is mainly isolated from the rest of Nepal.
Bandipur
A hilltop settlement, Bandipur is a beautiful village surrounded by chains of the mountain range. From the top of a hill, one can admire the scenic sights of Annapurna, Manaslu, Ganesh, Dhaulagiri, Langtang, and many more. Dominated mainly by the Newar community, here, cultural reference is quite apparent. Moreover, it is a beautiful hamlet with houses in Newari-style architecture and a lovely place to observe local life. Also, this charming and quaint town is the perfect destination for a relishing holiday away from bustling cities. Plan a trip to Bandipur while in Nepal, and indulge the cultural magnificence of the town. The town is quiet, yet here one could easily find several activities for leisure. Go on a scenic country walk or take part in local adventure sports here; you will find a combination of exciting activities for a serene holiday.
Final words,
These are some of the must-visit places in Nepal that showcase the entirety of Nepal. All these destinations ensure you have a lovely and marvelous time while exploring these places. Do plan a holiday in one of these destinations, and have one of the splendid times of your life.