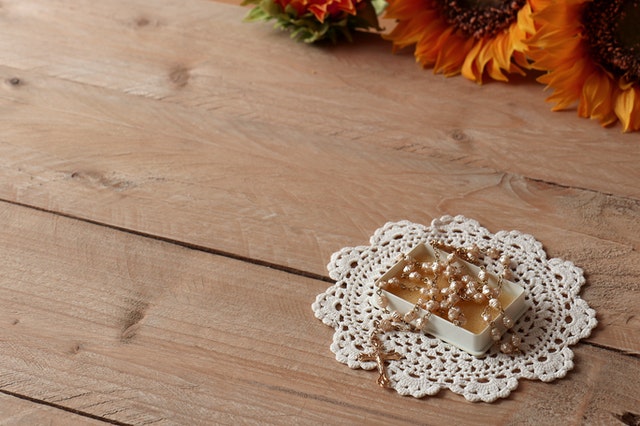 Rosary beads have been considered an important part of our religious lives for many years. By tradition, these beads consist of a rounded string of beads that is worn as a necklace. But currently, there is a classy way to wear rosary beads, and that is with a rosary bracelet.
A rosary bracelet is a bracelet that comprises of some beads (used for the prayers of the rosary) along with a crucifix and a Miraculous medal. By wearing a rosary bracelet, you can perform your daily prayers and express your faith to the everyone.
The Miraculous Medal
The Miraculous medal is one of the most essential parts of a rosary bracelet. It is a striking medal with the portrayal of the Blessed Virgin, and the Sacred Hearts of Mary and Jesus, which means that this religious medal covers a stunning and inspirational story behind it. Moreover, it is believed that the Blessed Virgin designed the Miraculous medal by Herself!
A Sign of Faith and Fashion
Prayer is the way through we cleanse our souls, and rosary beads are commonly used to perform those prayers. Rosary beads are very delicate items of faith, but it does not mean that they can't be trendy. Today's rosary bracelets are truly stylish, they give you a fashionable look, as well as the ability to keep your daily prayers.
A Lot of Variations Available in Rosary Bracelets
A rosary bracelet is not only an item of faith, but also a classy fashion statement. Fashion trends may come and go, but faith is always in elegance. One of the best things about this bracelet is that a lot of variations are now available in the market.
There is a bracelet for all since you can choose your crucifix and Miraculous medal in silver or gold. You can pick your rosary beads from a wide range of materials such as jade, pearl, amethyst, jasper, turquoise, or any other precious gem. Moreover, you can pick up the shape of your beads. With numerous options, it is quite easy to look for a rosary bracelet that is of your choice and style.
Find a Rosary Bracelet at Reasonable Price
After learning about the different styles and prices that are available in rosary bracelets, it is convenient to search for them online before shopping around at local religious or jewelry shops.
Online stores have a greater collection of rosary bracelets and other religious items. Therefore, you can easily find one to meet your needs. All you need to do is to search for a reliable website that specializes in rosary bracelets.
Another thing to look at is the cost of a rosary bracelet. Its cost usually depends on several factors, including the type and size of gemstone or precious material used. Hence, online stores offer different affordable deals for such bracelets. Buying online makes it easy to find the right one for your budget.
Conclusive Remarks:
A rosary bracelet can serve as a religious item and a fashion accessory. By wearing it, you can offer your daily prayers and enhance your overall fashion look. So, don't miss out on them Buy one today for yourself or your loved ones!
SheSpeaks.ca was not involved in the creation of this content. Information contained on this page is provided by an independent third-party content provider. SheSpeaks.ca makes no warranties or representations in connection therewith.